Belly Dance Teaching Course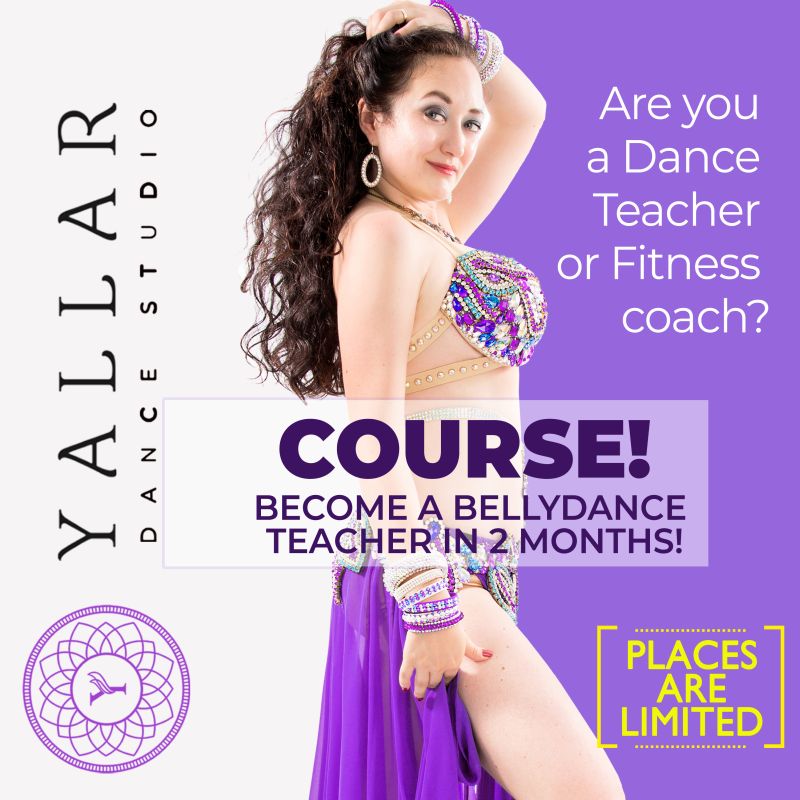 I`m very happy to present my very own teaching course!
As Yallar Bellydance is expanding I need more qualified, enthusiastic bellydance teachers in the team!
Are you a Bellydancer or have experience teaching dance, group fitness, zumba or yoga? This course is very beneficial if you are wishing to develop your teaching skills as it will help to understand all isolations required to Bellydance that are not commonly thought in other dance or fitness courses.
Come and learn Yallar`s signature class format, teaching approach, breath & isolations, basics of creating a choreography, movements must -haves. Nearly 20 years of Bellydance experience are ready for you to take and use in your own classes!
Why you need to have this course?
It will give you clear idea in how to organise our class and how ACTUALLY start teaching not in theory but facing your students. Avoid procrastination and not knowing what to do in your class, teaching again and again the same steps without developing your group. How to avoid loosing students, how to create your own environment and community- I will help you to find an answer to these questions.
This course is focused on those who want to start teaching asap without spending lots of money, energy and time on travelling abroad. By joining this course you are paying for 20 years of bellydance experience, step by step mentorship and avoiding costly mistakes which can go up to thousands of pounds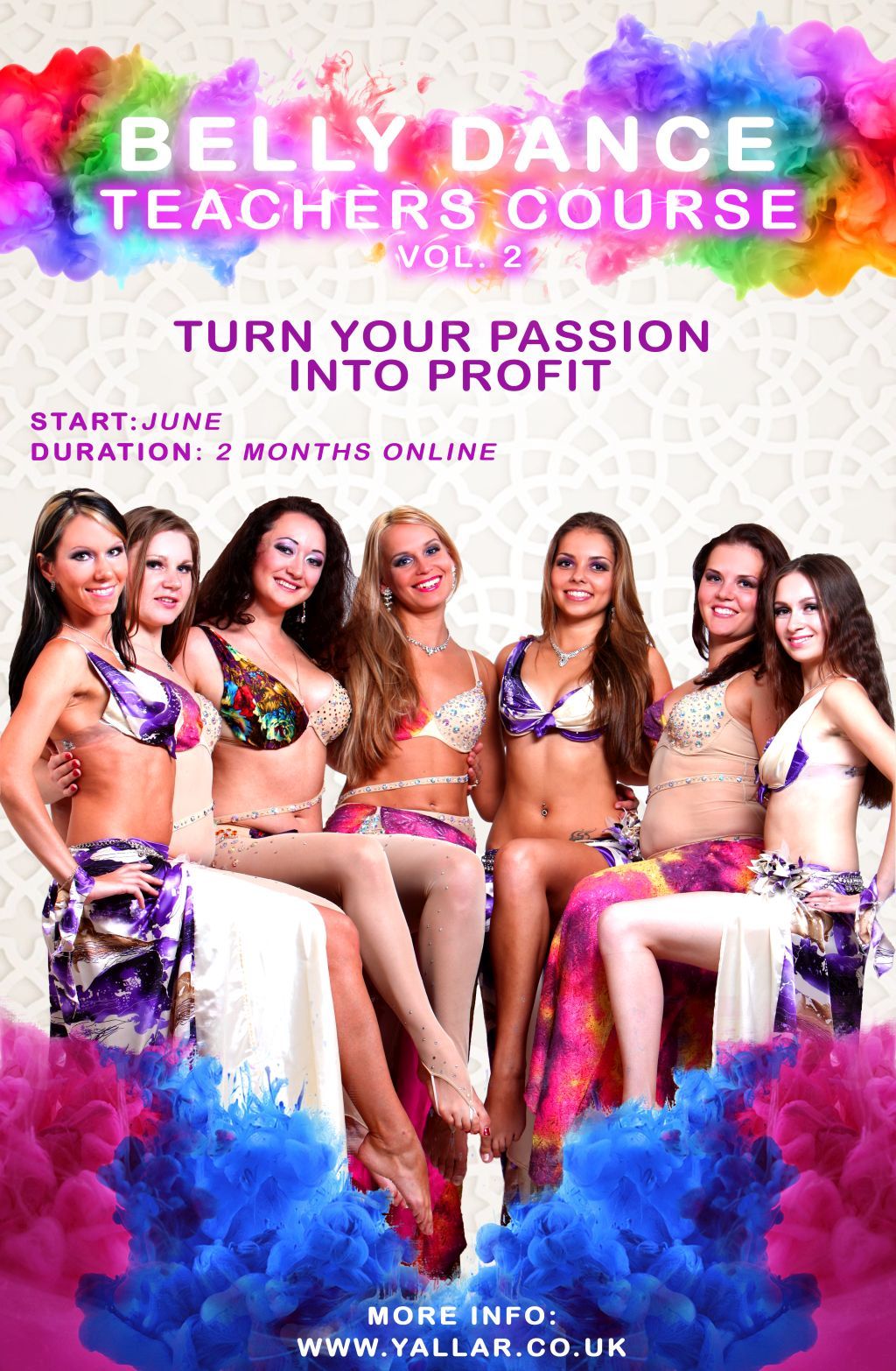 General Format:
2 months BellyDance teacher training course
Teaching format: Online and Face- to- Face
1-2 Zoom Live sessions, Question and answer sessions, Recorded Theory Classes, Personal guidance
This course is perfect for:
Bellydancers who are willing to start their teaching career

already teaching bellydancers who would like to expand their knowledge and would benefit from mentor support

dance teachers in other dance styles, zumba, yoga and fitness coaches who would like to teach bellydance without taking expensive and long "do-my-self" path.
As the course is fresh and new, it will be at a very special trial price
Program:
Part Where to Start




Answering When, Where, How much etc. questions. How to find a perfect place for your classes. Mirror vs. no mirror venue.

Your clients. Who are they, how to attract your perfect client

What certificates you might need to do the classes. Best times to do the classes

Class attitude, energy.

Competitors or colleagues. Good or Bad? How they can help you to establish your classes

Part Advertising your classes

Social media and how to manage it stress free

Paid and Free ads

Where are my clients? Where to advertise your classes and where better not to

Creating your social media image. Your mission, your goals. Why you?

How to start earning from your classes and increase your income

How much should I charge?

Teaching private and online classes

Part Teaching methods

Learning methods, Class psychology, Student learning types

Making your class exciting. How to explain, How to correct the student in a non biased way. Phrases to avoid

Student lead vs teachers lead class methodology

Easy ways to create Class plans and Yearly class plan you will actually follow

Avoiding injuries. Health & Safety & Burnouts – tips to know before doing a class

Part Theory & Practice

Class structure and timing

Warm up, diagonal & cool down. Warm ups must haves

Bellydance basic moves to start with

How to keep your students coming?

Shimmies

Examples of Warm ups, diagonals, and cool downs

Part Choreography

Preparing your own first choreography for the group

Best elements to start with

Tricks how to make a first simple dance look sophisticated

How to avoid overcomplicating the dance

Part Online Classes




What do I need to start teaching

Are online and face to face classes the same?

Your ideal client, where to search for her

How to organise the class and keep ladies coming

Part Egyptian Traditional dances

Best styles to start with

Steps and choreographies, how to choose suitable style for your group

History, rhythms and examples

Part Props & Improvisation
Basic Props. Introduction for beginners. Best accessories to start with

Basic improvisation/ performance skills

Games to develop improvisational skills

Rhythm and Musicality you actually need

Structure of the training:
Each class will be held on weekend for 2 hours online. Time to be confirmed.
There will be homework after each class that should be submitted before next class. You will not be obliged to do it but if you want to work with Yallar Bellydance, homework is crucial to demonstrate and practice your new skills.
Face- to-Face and/or online meeting and observation of Yallar classes (optional, but very advisable) obligatory for those who will be working for Yallar Bellydance.
Private consultation up to one hour online with each participant discussing teaching questions and methodology. Can be done face- to- face with additional charge. You will be pushed to start your own Bellydance class. Optional but highly advisable.
Exam. How you will be assessed:
Recorded class with students, friends, family or colleagues where you can demonstrate your new skills and your teaching method Created and explained your own dance combo/choreography. All students will be given opportunity to demonstrate their skills with Yallar`s beginners group.
All participants also will get:
Course certificate
Access to level 1 and level 2 online classes to observe and analyse
Playlist for the classes Dancing games to introduce the students and create fun, supportive environment
Price
Limited offer. The fees will be higher with VOl. 3 course edition, so hurry up!
£799
£600
Stay tooned for early bird price announcement and special offers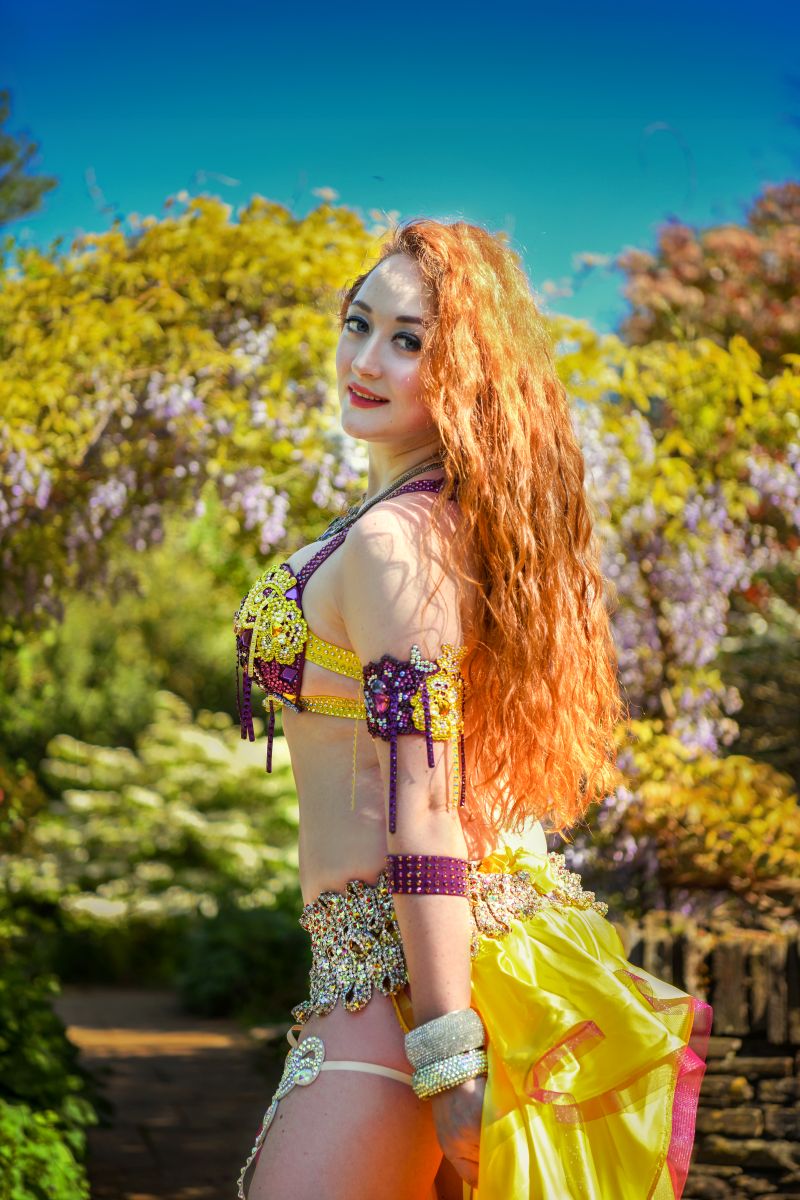 About the teacher:
Yallar 20 years of Bellydance experience, more than 1500 Bellydance workshops.
Competition winner and judge.
Will guide you through all teaching obstacles and difficulties and help to save your money from career killer mistakes
Save your time and start teaching and earning already In September!