Are you searching for Belly Dance Show for your special occasion?
You`re in the right place! Here you can hire a Belly Dancer for a Party of your dream!
For more pictures click here
Yallar is famous for her captivating performances, which include Classical Egyptian style, Show Belly Dance, Drum Solos, Shamadan (Belly Dance with Candles), Swords and Fan Veils Belly Dance. She can also include traditional dances such as Khaleegy, Saiidi and Shaabi etc. in her sets to give extra authenticity to your event. As both a teacher and performer Yallar is guaranteed to add sparkle to your event! To book Yallar to perform or teach at your event contact j.yallar@gmail.com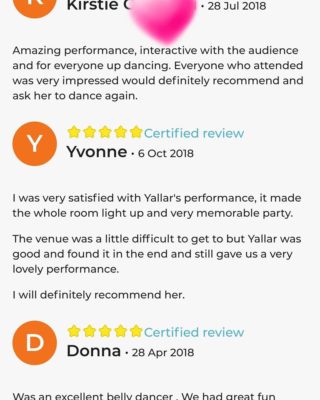 Here are some reviews from the clients about Yallar Belly Dance performance
Yallar Belly Dance Customer Reviews
Yallar is available for private events such as:
Birthdays
Hen Parties
Weddings
Special Occasions
Corporate Events & Shows
Restaurants
Festivals
Private Tuition
How how much does it cost to hire a Belly Dancer?
Hiring UK Belly Dancer can be confusing process. The price depends on many different factors such as:
Length of the performance
Professional level of the performer
How many different costumes the performer will use
Distance of the event
Day of the event
Accessories used (such as Isis wings, Shamadan, Saidi Cane, Veils, Fan Veils, Swords etc)
Yallar has different packages available for all kinds of events starting from short 20 min performance up to 2 hours Hen/Birthday Teaching and Performing Party. Each event had different requirements which makes it impossible to make fixed price so please email for details to j.yallar@gmail.com and you will receive detailed package description that can be adjusted to your unique event.